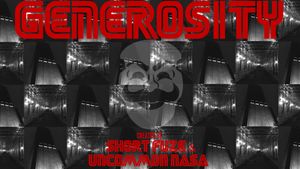 ---
Generosity is inspired by Uncommon Nasa and Short Fuze's love of the Mr. Robot television series and what the show represents in it's message and it's art. This song isn't a play by play of any of the seasons of the show or what happens on them, but it's an attempt to get into the mind of people like Elliot, Darlene, Angela or the other characters. 
What if Elliot was a rapper/poet with something to say about how he found the world? This is that. The goal was to create a song that stands alone whether you've seen the show or not, while also paying some tribute to it. 
Season 3 ended on Wednesday, Net Neutrality ended on Thursday. and now this on Friday.  Enjoy it, while you can. 
A "Pay What You Want" Download with the Instrumental version is available at Bandcamp, it also streams on Youtube and Soundcloud
---