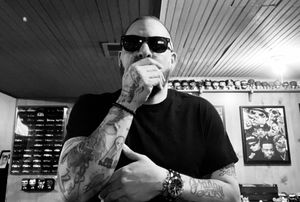 1. Introduce yourself. Past projects? Current projects?
My name is Short Fuze. I'm an MC from Chicago, I started out in a group called Wastelands in the early 2000s. I signed with Uncommon Records in 2007. People may know me from my past projects: Lobotomy Music, Autonomy Music, or my most current work with Uncommon Nasa as Guillotine Crowns from The First Stand and Hills to Die On. 
2. Where do you write? Do you have a routine time you write? Do you discipline yourself, or just let the words come when they will? Do you typically write on a daily basis?
I have my basement set up as a workspace, so it really lends itself as a comfortable place to write any time the inspiration strikes. In the last couple of years, I have trained my inner monologue to think in rhyme patterns. So, I'm always keeping myself sharp these days. I don't write daily regularly, but I write way more frequently than I ever have. A song, conversation, or TV show might spark something, so I just run with it when it hits. 
3. What's your medium—pen and paper, laptop, on your phone? Or do you compose a verse in your head and keep it there until it's time to record?
I write on my phone. There was a point in time I carried notebooks with me everywhere in a backpack. I lost that back at a show. After that, I learned to write in my phone. It's helped a lot because I always have my phone on me. If I am in the middle of a conversation and a line hits me, I can quickly write it down and I don't look weird [laughs]. On top of that, everything is automatically backed up so I don't lose anything. 
4. Do you write in bars, or is it more disorganized than that?
I do write in bars now. There was a time where I didn't know how to count bars until Uncommon Nasa taught me when we were writing together. Now that I know how to count bars, it's made my writing more concise and vivid because now I know the actual space to play with. 
5. How long into writing a verse or a song do you know it's not working out the way you had in mind? Do you trash the material forever, or do you keep the discarded material to be reworked later?
I'll know something isn't working usually within the first few lines. I pride myself in setting the tone for the verse in the first opening lines (shout out Prodigy). If it doesn't grab me, I know it's not going to grab the listener. I never scrap anything I write. It may fit into a different verse later. I've built new verses off lines I wrote years ago. Sometimes, I'll go back to something and that'll spark something entirely new.
6. Have you engaged with any other type of writing, whether presently or in the past? Fiction? Poetry? Playwriting? If so, how has that mode influenced your songwriting?
No one knew this, but I dabble in writing stand-up routines. I don't know if any of it is good or if I'd ever perform it publicly, but it really sharpens my technique in telling a story in a flowing narrative structure. I try and be as vivid as possible and put the listener in my place.
7. How much editing do you do after initially writing a verse/song? Do you labor over verses, working on them over a long period of time, or do you start and finish a piece in a quick burst?
Not much. I'll usually sit on the verse until the next day and adjust after rereading it. Sometimes I'll even edit as I'm recording because a word may not fit or sound as good within the context of flowing the verse out loud. 
8. Do you write to a beat, or do you adjust and tweak lyrics to fit a beat?
These days I don't write to a beat much. I don't always have beats readily available, so I'll write if I get inspired and then if a beat fits something I wrote, I'll use it. It's worked out well for me and I'm not limiting when I can write if I don't have beats at the moment.
9. What dictates the direction of your lyrics? Are you led by an idea or topic you have in mind beforehand? Is it stream-of-consciousness? Is what you come up with determined by the constraint of the rhymes?
I draw a lot of my lyrics from personal experience. The Guillotine Crowns album and The Painkiller Boutique were easier to write because I finally found the words to talk about things I have wanted to talk about for years. Even if I'm writing a straight up braggadocio rap verse, there's always a nugget of personal experience in there. 
10. Do you like to experiment with different forms and rhyme schemes, or do you keep your bars free and flexible?
A little of both depending on what I am trying to get across in the moment. Lately, I have been trying to push the boundaries on how I put words together and that's really allowed me to come up with different deliveries and flows. 
11. What's a verse you're particularly proud of, one where you met the vision for what you desire to do with your lyrics?
My verse from the song "Graduation Day" off The Painkiller Boutique. From a technical standpoint, I experimented with different rhyme schemes, internal rhyming and the way lines transitioned from one line to the next. From a vision standpoint, I feel like that's one of my more vivid verses. I talked about things in that verse that I've never spoke about publicly. That verse was the catalyst for where I was going to take the album.  
12. Can you pick a favorite bar of yours and describe the genesis of it?
Smoked out against the headrest
reflect on the temptress, feeling neglect
wondering if, the seed in her belly is mine or his?
As I said above, "Graduation Day" was the catalyst for where I would take the album. This line is something I've not talked about publicly or in my music, but there was a point where my daughter's mother cheated on me and she got pregnant. At the time, she didn't know if the baby was mine or this other person she was with. Once I put that down in a verse, I knew I was really ready to dig really deep. 
13. Do you feel strongly one way or another about punch-ins? Will you whittle a bar down in order to account for breath control, or are you comfortable punching-in so you don't have to sacrifice any words?
No. I've recorded verses where I've done it in one take and felt great about it. I've also punched in numerous times to get the verse right. Whichever way is going to get the point across and make the listener feel something, I'm all for however makes that happen.
14. What non-hiphop material do you turn to for inspiration? What non-music has influenced your work recently?
Everyday experiences, whether mundane or exciting. There are times I'll just be sitting on the couch petting the cat and something will pop in my head. In that moment, my mind is clear and quiet. 
15. Writers are often saddled with self-doubt. Do you struggle to like your own shit, or does it all sound dope to you?
I used to be saddled with self-doubt. But over the last few years, I've really embraced that I'm a great writer and I think that's translated into my rapping. Having confidence in my writing has given me more confidence in my rapping as far as experimenting with using my voice as an instrument. Whether it be delivery, flow or adlibs.  
16. Who's a rapper you listen to with such a distinguishable style that you need to resist the urge to imitate them?
Ka. Although it's not to resist the urge to imitate him, it's a bar he's set that I aspire to get to that level of writing. There are things he does with the English language that's unbelievable.  
17. Do you have an agenda as an artist? Are there overarching concerns you want to communicate to the listener?
As an artist, I just want the listener to relate to what I'm saying. I understand what I can do with writing and rap, not everyone can do. So, I write for people that have been through similar things I have. Hopefully, when people hear my music, they feel seen and heard. I started writing as a kid to have a voice within a space I wasn't allowed to have a voice.