Original Link: Damn That Noise Interview by Ralph Perez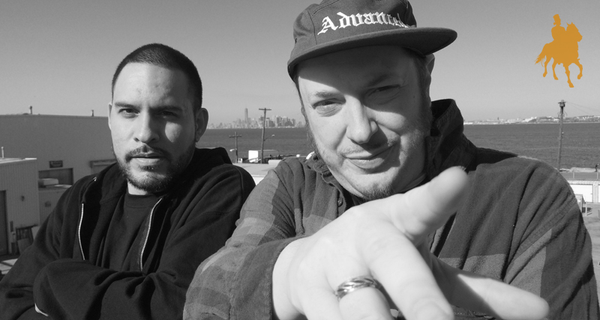 Autonomy Music is a futuristic walk through what would seem like the inner demons of Blade Runner Rick Deckard after all the androids have been retired wondering what his purpose is. The production is some of my favorite from Uncommon Nasa who is clearly on a musical rampage with the last three albums he's released being pretty incredible. Now he's taking the musical reigns again on the Short Fuze project where he has crafted sonically dense, heavy, cinematic music to pair with the stark stories coming from the Chicago native Short Fuze. 
6 years between an album release can be thought of as kind of a big gap, but when you write with purpose and thought no one really cares about how long the wait was, just how good the end product is going to be. With the release of Autonomy Music arriving today, almost 6 years since the release of Lobotomy Music I sat with Short Fuze to talk about his work with Uncommon Nasa, the overarching theme of the album and it's internal battle with faith, depression, and what motivates his writing for this LP. 
If you haven't copped the vinyl yet, do so HERE, or follow the embedded Bandcamp player found in the interview. 
_______________________________________________________________ 
DTN: Autonomy Music seems very personal. What was going of in the creative process for you t hat had you focus more inward that outward? 
Short Fuze: I was going through a lot during the process of this album. From the beginning of the writing process, I didn't feel confident about what I was writing. When I finally hit a groove with writing, I lost all the lyrics I had written because I stupidly was writing lyrics on my phone. My phone crashed, I lost everything. I actually called Nasa and told him I was done with music. He talked me down and basically said give me one more record. So, we started from scratch. I initially was putting a lot of pressure on myself finish this album quickly. But, one day I just said FUCK IT. I'm going to take my time. I want every song to tell a story. I think that's why it seems so personal. Even more so than Lobotomy Music. You can here the tension and pain in my voice in some of those songs. That's because as I was recording it, I was being freed of my fears and doubts. The minute I heard the beat for Chaos, that was the catalyst for the rest of the record. 
DTN: This is album #2 with Uncommon Nasa handling all production, and even showing up on several songs. What about Nasa makes him your go to guy? 
Short Fuze:  I have a lot of respect for Nasa. Beyond music. Just as a person and human being. I've been a fan of his work since The Presence and Def Jux days. He has an incredible ear and knows how to bring the best out of someone. The beats for Autonomy were for the most part crafted specifically for me. He just knows what fits well with my style. He brings a different level out of my ability. He allows me to be myself and rarely questions what I'm doing. When I went to New York to record Autonomy, he let me be me. Outside tweaking of a chorus and a rewrite of a line, he worked around my vibe. And trust him enough to where I didn't have to tell him what to do with his verses. We just work well together because we're friends outside of music and we understand each other. He knows what I'm on musically. And that's the best producer to have. 
DTN: This is the first time I'm seeing your work pressed to vinyl. What about this particular album made you and Nasa sit and decide that it deserved to be heard in that particular format? 
Short Fuze: It's a simple answer really. I wanted it that way. I've always wanted something on vinyl. The dopest albums in existence are on vinyl. Any genre. I said even before I finished writing the record, that's what I wanted. It just so happens Nasa had great success with NYT and Halfway. I wanted to duplicate that. Plus, nothing sounds better than vinyl. It's definitely made a difference. People that have never copped my shit, have copped my vinyl. 
DTN: "EPMD" is one of my favorite tracks on the record. Explain the importance of that group to you, and why the choice to name a song after them? 
Short Fuze:  EPMD was one of my favorite groups growing up. They created some of my favorite songs. This was my way of paying my respects to them. Plus, Nasa and I have gotten compared to them. So, I figured why not? I can't wait to perform that song live. 
DTN: Explain the ideas behind "Perfect Health" and the art of graffiti in your life/youth. 
Short Fuze:  Perfect Health was a quick piece about how I was pulled towards being an MC even when I was gang banging and selling weed. My soul was being pulled by the negative I was doing by being loyal to so called friends. Rap was literally my savior. You'll have to ask Nasa what his verse is about. I know, but I think he wants you guys to figure out. Graffiti was a big part of my childhood. Now, my can control sucked, so I would throw up random tags with markers whenever I could. Growing up in Chicago our graffiti was different than anywhere else. Ours was gang related. But, we had our share of traditional burners sprinkled about the neighborhood. 
DTN: What do you hope people take away from the album once they've sat and digested it? 
Short Fuze:  I just want people to be like, damn  Short Fuze is dope at what he does. I hope that people can take something from it. I want people to know they aren't alone in the same thoughts they share with me. I know I'm not the only one that's felt this way. I'm fortunate I can express it. Some people can't. I always try and be the voice for them. 
DTN:  We are in a very politically and socially charged time with elections, police murdering folks, and living in Chicago I know that murder rate there has been crazy. How had this taken effect on your approach to creating and more importantly parenting 
Short Fuze:  It hasn't changed how I create at all. I've been touching on these subjects in some form for a long time. It's just unfortunate that America doesn't listen to the intelligent rappers i.e. Chuck D, Killer Mike, etc. They aren't/weren't talking out of their ass. Chuck D has been talking about these types of injustices for damn near 30 years. Unfortunately, they aren't going away anytime soon. Shit, I would love to write happy raps and party records. Haha. 
DTN:  You grapple with your faith throughout the album. What kind of relationship to faith/religion have you had, and what about it all has been a battle for you? 
Short Fuze:  Faith is a battle for me because it's blind. I like being able to control what I can. And unfortunately, God's plan is not one of those. I have patience and faith that God is leading me in the right direction. Even when I'm going the wrong way.